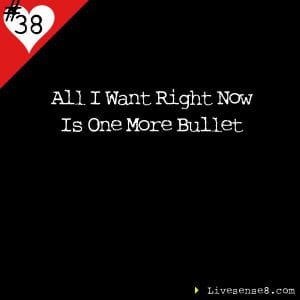 All I Want Right Now Is One More Bullet
In this episode of the Live Sense8 Podcast, Zac and Sheila dive deep into, All I Want Right Now Is One More Bullet, Season 2 episode 8 of the Netflix Original Series Sense8.
Jonas is resurrected from the dead. Lito is exposing his superpower.
Will is witnessing a blurring of the line between good and evil blur and Wolfgang just wants one more bullet.
Using the episode as a backdrop, Sheila and Zac dive into a lively discussion about the power of emotions, maladaptive feminine power, the desire to be free and the importance of knowing yourself.
Discover why they adore the scene with Lito and Sun moping on the bed.
Will's conversation with Kala challenges a discussion about truth.
Is truth simple?
Is telling the truth always the right thing to do?
Do the ends justify the means? How do we create a community without conflict while honoring diversity?
These are just a few of the questions explored in this episode of Live Sense8. Have a listen and let us know what you think.
Thanks for Listening!
To share your thoughts:
Leave a note in the comment section below.
Ask a question over on Twitter.
To help out the show: