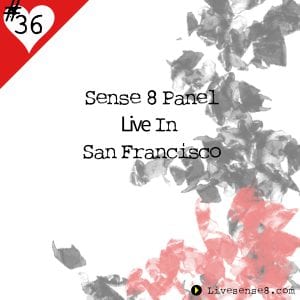 Live Panel In San Francisco
In this special episode, Zac and Sheila are joined by the Sense8 Cast in San Francisco for a live audience panel discussion. This episode is filled with laughter and reflections about the miraculous production of Netflix's Original Series Sense8.  Join, Michael Sommers (Bug), Maximilienne Ewalt (Amanita's Mom Grace) L. Trey Wilson ( The "Real" Dad), Sandra Fish ( Nomi's Mom Janet) and The Dynamic Fairy Duo, Tino Rodriguez and Virgo Paraiso
Discover  how three words landed Michael Sommers in Chicago for a week. Reflect upon the notorious Brownie scene on top of the Eifel Tower dive deep into the way each of these cast members has been impacted by their Sense8 adventure.
Maximilienne shares her battle with a ball of yarn and L Trey will surprise you with what excited him most during the past year. Michael and Sandra share the story of their first date with the cast and audience.
There is the exploration of the various realms of consciousness reflected in the Lacuna and in our dreams.
Then things get deep when an audience member asks about the use of mind altering drugs on the path to consciousness. 
This episode is a must listen. You will feel as if you were invited into a Sense8 cast party.
The Live Sense 8 Podcast Panel Discussion in San Francisco
Photos by James D. Motlow
Thanks for Listening!
To share your thoughts:
Leave a note in the comment section below.
Ask a question over on Twitter.
To help out the show: